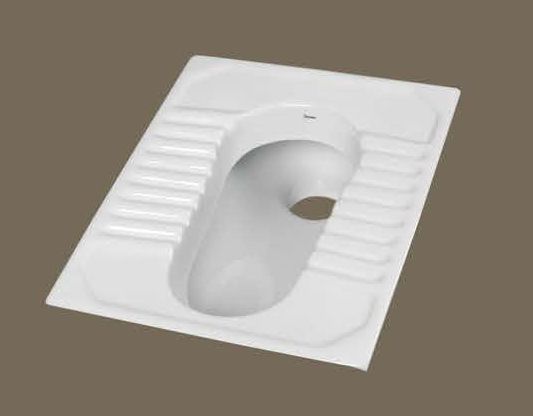 You will find various Orissa pan toilet seat supplier who offers a different elegantly crafted variety of Orissa pans which have a great value in the market. As consumers or buyers, you can easily avail of the Indian Orissa pan seat in different shapes and sizes according to what will match with their washroom décor.
Some skilled labourers robustly design and manufacture the Orissa pan toilet seat using the great quality ceramic material for ensuring optimum quality and durability.

What is an Orissa Pan Toilet Seat?-
• The Orissa pan toilet seats are also commonly known as a squat toilet or even squatting toilet. It is a toilet that is used by going in a squatting position rather than sitting as we do in western toilets.
• There are different types of squatting toilets but all of them have one thing in common and that is they all essentially have a toilet bowl or pan at floor level.
• The Orissa pan toilet seat which has a water seal is called a flush toilet, whereas the ones which do not have a water seal are called a dry toilet. The term squat toilet is used for these toilets because of the way people sit on them, the posture in which people defecate on this toilet seat is the reason why it is called a squat toilet.
• The name squat toilet has nothing to do with its functionality, like, whether it has a water flushing system or not.
• These Orissa pan toilet seat suppliers can be easily found all around the world. But majorly it can be seen that African, Asian and even the Southern European countries prefer to use Orissa pan toilet seats more than the western toilets. As they have a cultural norm of anal cleansing with water, which is easier to do in these toilets than in the western ones.

Benefits of Using Orissa Pan Toilet Seat –
• There are a few studies that show squat toilets are much healthier than sitting toilets because of their more natural body position. It is said that these squat toilets reduce the common risk of various rectal diseases like constipation and haemorrhoids.
• You must keep the standing surface of the Orissa pan toilet seat dry and clean to avoid disease transmission and also for limit odours.
• Many people claim that the Orissa pan toilet seat is a lot more hygienic as it doesn't have direct contact with the body. However, not that seat contact is a major reason for the spreading of infections or health risk but still, it is considered that because squat toilet seats are far away from the person's body there is less risk of water splash back during defecation.

These are some of the reasons why you should find a good Orissa pan toilet seat supplier and get yourself one too.These Orissa pan toilet seat are the most reasonable in colleges, schools, hotels, hostels, hospitals, cinemas, restaurants, and even some homes.
You just have to choose a good quality Orissa pan toilet seat supplier who will supply you with a good product at a reasonable price range.