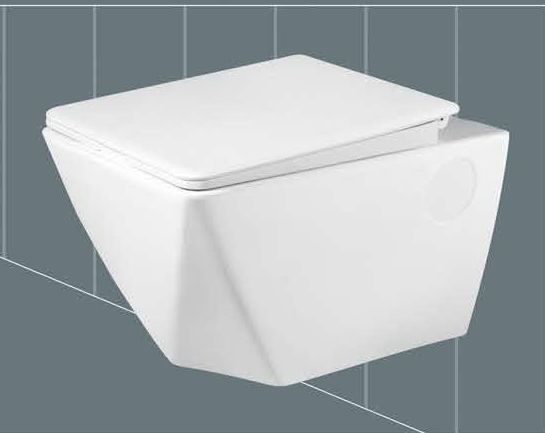 Today, wall-mounted toilets are seen in most of the new cafes and restaurants. This new modular look of toilets has become a craze due to its small size which helps to make any small bathroom space look bigger. Another plus point for using these toilets is that they are much easier to clean in comparison to the regular floor toilets. And, these two features are quite responsible why most of the businesses have adopted it so fast!
If you are thinking of contacting one of the wall hung toilet suppliers in Gujarat to install one at your home, you must know that it is a costlier option than its floored counterparts. So, why choose such a costly alternative? Why wall hung toilets make a great to work through your days? Is simplicity in again? All these questions are worthy of answering. But for now, it is true that wall hung toilets are going to stay for the long run.
History of wall hung toilets:: Flush toilets are in the market for centuries now. On the other hand, wall hung toilets are slowly introduced to US homes only just. But you do not need to worry about installing it at your place as the Europeans have adopted it quite readily. Such toilets are preferred for use in a large crowd due to its easy-to-clean technology. This is why airports and commercial places prefer installing wall hung toilets.
Why would you love to use wall-hung toilets?
Though there is an array of reasons to love it but here are the most obvious ones listed below.
• Saves water: Do you know that wall hung toilets are environment-friendly? How? Most of the installation and functioning of wall-mounted toilets follow the EPA directions of using water and thus significantly cut your water usage. Such toilets work based on gravity and thus minimize the use of water by lowering the usual water pressure. Also, its easy-to-clean nature requires less usage of water to keep it clean.
• Easy to clean: Cleaning the toilet space is a tedious and scary task, right? When a guest comes to your space, he decides your image majorly by realizing the condition of your bathroom space. To keep your toilet clean every day by maintaining a hectic work schedule is a bit difficult. In such a scenario, wall-mounted toilets make an easy fix. You can easily mop the space under the wall-mounted toilet.
• De-cluttering: Wall hung toilets can be easily categorized as uncluttered designer pieces while you know that designer and bathroom are two most unmatched words! But in case of such toilets, the two words make a fabulous combination. With the installation of wall-mounted toilets, you are offered with a range of beautiful pieces and sophisticated curvatures that can efficiently complement the entire bathroom space.
• Saves space: Wall-mounted toilets are the favorites of builders. Why? It is because they do not need to reduce the living area for providing more bathroom space. They also find it great for small homes.
So, you should contact the best wall hung toilet suppliers Gujarat to get one for your home that showcases a positive vibe to the inmates and the guests!